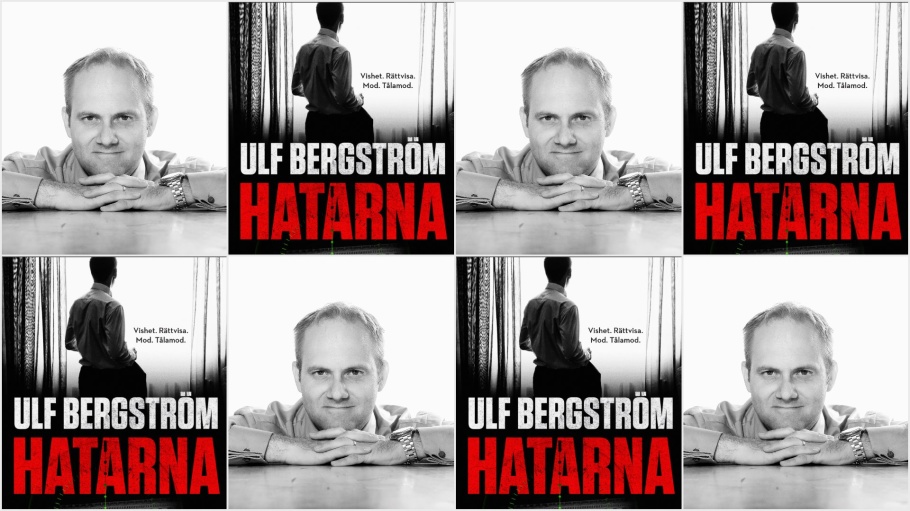 THE POLITICAL THRILLER OF THE YEAR - THE HATERS (Hatarna)

THE STORY
"For Republic and Fatherland" / Captain Pascal Odenberg, Leader of the Swedish Republican Army "Swedish soldiers should not any more need to die for a spoiled king" a handful of bitter Afghanistan veterans exclaim and take an oath to form the Swedish Republican Army. Thousands of miles away from Sweden they have fought for equality and democracy, only to bitterly realize that the values ​​they were fighting for did not exist at home with a royal house, the symbol of everything but equality, and that their sacrifices were in vain. Under Pascal Odenberg's leadership, the SRA contracts the German sniper "the Shadow" to avenge their dead and injured figthing comrades. The sniper will execute a terrorist attack against the royal house. It will prove to be his hardest mission ever, to kill the entire Swedish royal family at one and the same occasion. But the Swedish secret service Säpo gets an early, yet vague, warning about the terrorist plans. Simultaneously, the Shadow meticulously prepares his moves, and selects the most suitable time, location and weapon for the terrorist attack.

The hunt
After the terrorist attack has taken place, and the royal family is murdered, the country falls into a JFK/Palme-assassination-like chaos all too familiar for the country. The Swedish secret service Säpo agent Nina Sandstedt use all and any available means to find the perpetrators, including sex and excessive violence. The various clues leads her across Europe, to Germany, Spain, Norway in the hunt and the leads point to different kinds of activists who are haters, and to royal houses in the UK, Saudi, Spain, Belgium and Denmark being mentioned. The terror attack gives rise to enormous chain effects in Sweden, the country is boiling of demonstrations and violence between monarchy and republican activists. When the media reveals corruption and the wills of the royal family, it reveals the deepest secrets of the monarchy. The revelations result in new unexpected, dramatic political waves: what are the repurcussions in society after a major terrorist attack?

#terrorism #terrorattack #thriller #NinaSandstedt #SwedishSecretService #Säpo #sniper #Germany #Sweden #Afghanistan #veterans #SwedishRepublicArmy #SRA #PascalOdenberg #justice #equality #royalhouse #murder #revelations #scandals #media #attack #fiction #news #debutnovel #crime #crimenovel #Saudiarabia #monarchy # republic #PoliticalThriller #society #drama #newbook #booknews #readings #readingtips

FILM RIGHTS IN SWEDEN SOLD
The leading actors' agent, voice and film production company Voice/Hammarström Agency has acquired the film rights in Swedish and is preparing a filmpitch of Hatarna -the Haters- with leading Swedish et al actors and filmcrew. For further contact, please contact: CEO Fia Hammarström +46 - 708-24 07 07

AUDIO BOOK RELEASED!
Hatarna -the Haters- now exists at Storytel, Nextory plus Bookbeat! Reader is Harald Leander, (one of Sweden's leading readers, who has e.g. readmajor works such as Game of Thrones, Wallander/Mankell, Nesser, ArneDahl, Stephen King, et al.) The audio book deal was instantly signed by Word Audio Publishing.
Sample reviews of Hatarna:

Norrländska Socialdemokraten:
"a terrifyingly ambitious thriller, sometimes impressively initiated, whose target picture contains extreme brutality, clairvoyant criticism towards society and inspiring humor." ... "Through 520 pages Bergström in a clever way interfoilsl the thinking and the acts of the haters, of the sniper assassin, of the Swedish secret service police inspector Nina Sandstedt - and the king. To take note of the king's fictional thoughts gives good entertainment while awaiting the climax of the drama." //
Therese Bookcase: "This one was really intense, hard, uncomfortable & exciting! It's a really exciting page turner." "Good and interesting characters, whom I would like to learn better."
Jennie's Book List: "Exciting, dark and strong!"
Bokfrun: "The action in this book makes you shiver." ... "terrible and realistic. I think the book would be really good and exciting as a movie as well."
Bok_stavligt: "It's not a book which you put away and forgets when it's finished which Ulf Bergström has accomplished."... "It entices reflection and while reading, I sometimes for a while stay in the world of the book even after I have put it away, and for a short second, I actually felt quite confused about what is real and what is fiction."
Bergstrands skrivstuga: "The words hit as if they were pumping out of a machine gun and partly it hurt when the story became a bit too realistic. The aftertaste will stay for a long time" ... "really a hypercurrent reading experience."
Bookishlyfalling: "Bergström has created really unique characters." ... "I just could not stop reading!" ..."Intcredibly good".
Deckartips: .. ... "it is driven by many interesting and well-described characters. It's exciting, catchy and very detailed. "..." The theme of the book is current, daring and generates debate."
FrökenSmillasKänslaFörBöcker: ... "an exciting political thriller with a very challenging intrigue and story" ... "The Haters would also be very good as TV-series"
AngelicasBokochFilm: "A scary, important, exciting, and interesting book." ... "I look forward to your next novel"
BinasBooks: ... "Well written, meticulously developed and well thought-through book", "an intense political thriller novel. The story feels highly current and is incredibly fast." .... "The characters are well written and interesting, especially the main character Nina"..."The time aspect of the book is interesting with both connections to historical events [] and "some events which occur in 2019. A fun mix of reality and fiction."
Bara böcker: "A very entertaining description of society and its machinery." ... "constantly (the author) creates new excitement, new things occur which the reader can not predict or expect." ... "an exciting and entertaining book."
Lizes bokhylla: ... "Well-written and realistic while highlighting and raising important democratic issues from multiple perspectives"
Boklistan: .... "a high pace" ... "packed with scary characters and events"

_____
Comments on the Haters-Hatarna:
"A mix of a Swedish take on the Day of the Jakal, with elements of Homeland, American Pscyho
and The King's Speech."
"Frightening plausible."
"No one is left indifferent by the Haters."
"The most controversial political thriller of the year."
"A must for anyone interested in politics and society"
NEWS:
Article on the Haters in Politico 8/11 (in English.)
The Haters (Hatarna) can now be found in prominent position at Akademibokhandeln Hötorget, city centre of Stockholm, just as you come up the stairs. "An unreal feeling to be shelf-neighbour to David Baldacci and other great writers whom I have worshiped" says Ulf.
Interview with Nynäshamnposten 05/10. (From operasinger and EU-civil servant to thriller author )
Hatarna at the top list for pockets at AdLibris, Kungsgatan, Stockholm
Hatarna is now also available on the ferry boats to Gotland Destination Gotland
Excerpts of interview with P4Gotland, 24/08 at the GotlandArtCrime-festival
Hatarna ranking number five in the top lists for pockets at Akademibokhandeln, Mora.
Interview in P4Dalarna, 09/08, as of 2hrs, 53 minutes into the radio recording.
Intervju i Radio Siljan, 09/08.
BOOKSIGNINGS:
Upcoming:
Akademibokhandeln, Strängnäs, Saturday 17/11 11.00. Additionally dates to come.
Some songs, a mix of opera, napolitaneans and traditional Swedish folklore songs can be anticipated, as Ulf is a former operasinger.
Previous book signing occassions: Klackenbergs Bålsta, 10/11, Klackenbergs Tumba, 09/11, Klackenbergs i Jakobsberg 02/11. Klackenbergs, Värmdö, 26/10. Klackenbergs, Sundbyberg, 13/10. Klackenbergs, Haninge, Port 73, 07/10, where he sold out all the books available for the 2n time. Applause from the audience while singing. Klackenbergs, Nynäshamn, 05/10. Interview with Nynäshamnsposten, which heard him singing and came by to make an interview. The main Book Fair in Gothenborg, Sweden, the biggest cultural event in Scandinavia, Bokmässan i Göteborg, 28/09. Roslagens bokhandel i Norrtälje, 22/09. Klackenbergs Böcker och Papper, Vällingby 23/09. In Astrid Lindgren's home town, Vimmerby, 07/09. She is mentioned in the Haters. Västervik, Erik Hultgrens bokhandel, 08/09. Akademibokhandeln i Borlänge, 01/09. Lundells i Leksand, lördagen 01/09 Akademibokhandeln i Falun, 31/08. Participation at the Gotland Art Crime festival 23-25 august, panels on "Murder and Politics" et al in Visby with leading Swedish crime authors e.g. Dag Örhlund, Per Schlingmann, Mari Jungstedt, Anna Johansson, Anna Bågstam. Äppelvikens Bokhandel, Bromma, Stockholm, 18/08. Akademibokhandeln i Mora, 09/08. Globe bokhandel i Ludvika, 10/08. At the annual "political week" of Almedalsveckan 04/07 Visby, at Wessman &Pettersson, Ulf sold all books, as the first one of those signing that week! Singing and a current thriller apparently was a winning combination.
"Hatarna" -the Haters is the first book in the independent series of novels about the Swedish Secret service agent (Säpo) Nina Sandstedt. The Haters is Ulf Bergström's debut novel.
Watch the videointerview with Ulf in YouTube (Swedish only): Om Hatarna
For media/interviews (in EN/DE/FR/IT): + 46 0708 20 35 40
For publishing houses: please contact the Publishing Manager, Mrs Veronika Borzymowski, + 46 70 0750 294
Photography: Anja Callius. www.callius.se For even higher resolution, please contact info (ATSIGN) ulfbergstrom.nu.
These press images may be used free of charge by media provided that the name of the photographer is published.
The cover to the Haters -Hatarna, is designed by one of the top Swedish book designers, Niklas Lindblad,
Mystical Garden Design, www.mgd.nu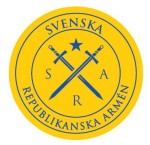 The logotype for the fictional Swedish Republic Army. A logo has an inherent visual strength. This logo has on many occasions made people ask "But is this for real, do they exist?"
Sometimes the power of an image is bigger then the power of the words.
Good fiction should seem real.

Design: Jan Borzymowski.